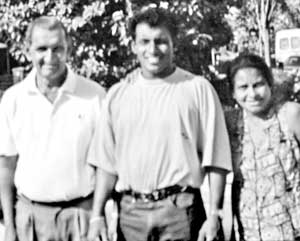 My father lived like a rock – Aravinda:
"My father never gave me or my sister (Araliya) any fish, he just tought us how to fish" thats how former Sri Lanka skipper Aravinda de Silva explained his father's approach in life.


"In his sixty years on this earth I do not think he even took a Panadol, until we discovered his killer decease – Cancer. By the time we did so it was too late.


"He was always like a rock in his statue, but, very gentle in his deeds. He even bought land for our domestics and settled them in their lives." added the ex-Sri Lanka cricketer.


However what moved Aravinda the most was a note left for his son Sampras by Sam at his death bed. It read -- "Profit, loss, prosperity, adversity, health, illness, praise and disgrace. – if you can face all this like a rock without shaking like a rock in a storm you are a great man.


One little plea from the former great Lankan cricketer who guided his nation to that memorable World Cup victory. "Please do not send any flowers, if at all make all donations to the Cancer Hospital in Maharagama. You also can put your donations into the till that is kept in our residence for that purpose".


Sam leaves his wife Indrani along with his son Aravinda and daughter Araliya and grand children – Satya and Sampras. Remains will be at 85/5, Sri Dhammadara Mawatha, Ratmalana till Monday.