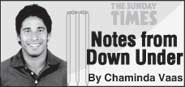 We arrived here on Tuesday after a short two hour flight from Adelaide where the first tour game allowed us to iron out a few outstanding issues. Several batsmen rediscovered good touch with Marvan, Van Dort and Mahela scoring fifties. Then there was Sanath who scored a typical run-a-ball 154 leaving us in no doubt that he means business.
Murali also bowled for the first time on tour at Adelaide. While no one barracked him with calls of 'no-ball', he was able to send down 44 overs without any distress, taking four wickets, a sure sign that his biceps injury has healed well.
Against Queensland, our top order had an off day, finding it difficult to deal with the sponge bounce of the wicket with some deliveries kicking up while others kept low. We expect a more even paced track at the Gabba for the test match.
When Lasith was bowling there were a few 'no-ball' calls against him from the crowd. Obviously it was an attempt to disturb his rhythm and upset the team as well and this may be what we could expect from the Brisbane crowd when the test begins, especially with Murali also playing. We are of course prepared for that and even more determined as a result.
Only Marvan was able to negotiate the difficult conditions initially but we were dealing with a top notch pace attack that comprised of Mitchell Johnson, Andy Bichel, Michael Kasprowicz and Ashley Noffke although it was the lesser known Noffke who did most of the damage.
Marvan's innings on Friday, together with Sanath's blistering knock in the Adelaide game should seal the openers' berths for the first test. With Sanga on the injured list, Michael could most probably find himself batting at number three.
What was reassuring though was the performance of our lower order batsmen who took the score from 81 for 6 to 210 for 9. Prasanna Jayawardena's unbeaten fifty would give him enormous confidence going into the test. He would have played as the keeper even if Sanga was fit but now his batting form would definitely be a bonus.
Read more